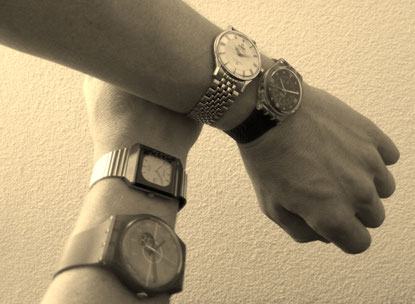 The question to begin with: do objects have a soul? Honestly, even though I like watches not only for the concept itself but also as a design object I'm not so much into commercial goods and I don't believe that they can have a soul.
But if it comes to pass on a watch or a writing instrument such as a fountain pen to a dedicated successor I believe that these items transfer the predecessor's personality and history - in fact their soul.
Something I would like to mention in between: as you have noticed I like to use pictures of the Patek Philippe generation campaign. This is because from my point of view the story of this campaign is very strong. So, I'm not especially that much into the brand, but probably I will write another time about it.
Now to my father's watch: it's an automatic 4HZ Rado Diastar gold plated made out of hard metal.
Unfortunately my father passed away almost 20 years ago, afterwards the watch disappeared in my mother's drawer and I did forget about its existance.
A few years ago my mother told me that she still has his watch and asked me to wear it. I was not that enthusiastic about it as it seemed ugly and to small to me. However I took it home and started to wear it. That moment the watch was on my wrist, my father was very present and close to me and I remembered intensively him wearing this watch when I was a kid. This watch and him belonged together in my memory.
I then had a full service on the watch and I'm still wearing it regularly. It's a very handy and rugged model, keeps time quite accurately, it's got a very clean and superbly readable dial and the vintage design as a whole is "bearable".
But there are times when I need to put aside the watch for some weeks as I'm starting to feel uneasy. Maybe it's my dad's constant presence (he was a good man, but as always there were characteristics, which I did not like so much) or the design of a time which simply has passed.
Perhaps it's even simpler than that and I just need a change.
Which leads me to the conclusion that a watch can be a "soul transmitter" that I like vintage but more looking for contemporary timepieces though because I live in the "here and now" and that I'm probably not the target group for Rado's - still today - material driven (peculiar) design language.